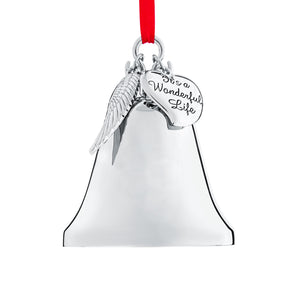 In Stock
Buy It On Amazon
Klikel Christmas Bell Ornament with Angel Wing and Heart Charms - Its A Wonderful Life Bell Ornament- Memorial Gift

• CHERISH THE MEMORIES: Inspired by the Christmas classic, it's a Wonderful Life musical, this bell is the perfect memento to remember the craziness, laughter, and tears of 2020. Hang it on the tree and remember, everytime a bell rings an angel gets its wings.
• EASY TO CARE FOR: Classic nickel-plating means there's no need to keep polishing, and the included ribbon makes this Christmas movie ornament the perfect additional to your holiday tree.
• LARGE RINGING BELL: This Christmas movie ornament, with both wing and "It's a Wonderful Life" charms makes a festive statement. The angel bell has a clear ringing sound and measures approximately 2.5" x 3".
• CHERISHED GIFT: Give this angel bell as an unforgettable gift to someone who has lost a loved one. The warm message keeps loving memories close for the perfect memento after experiencing the pandemic.
• JOIN OUR COMMUNITY: By choosing Klikel its a wonderful life bell ornament, you join families and event planners across America, who are decorating their homes and halls with Klikel ornaments.
• Measures approximately 2.5"x3".

This is a treasured CHRISTMAS BELL ORNAMENT with the message, everytime a bell rings an angel gets its wings.

Celebrate times spent together watching your favorite Christmas film, Its A Wonderful Life musical. The elegant ringing bell has an angel wing charm + an engraving charm with Its a Wonderful Life. This is a memento for the strength and growth that emerged from living with the pandemic.

A THOUGHTFUL GIFT

Give this Christmas movie ornament as an unforgettable gift to anyone missing a loved one.
This bell captures raw emotions and wraps it with warmth and love. Give the gift that shows you remember and care.



PRODUCT FEATURES

Strong non-tarnish nickel plate

Red tie ribbon for hanging

Angel wing charm

Engraved charm Its a Wonderful Life

Ringing sound with clapper

Large Size: 2.5" x 3"
PERFECT HOLIDAY ADDITION

Large classic shape and smooth shiny finish makes this its a wonderful life bell ornament
a long-lasting memento. The hanging charms and clear engraving makes this bell a great consolation gift. The red hanging ribbon completes the touch for the perfect tree décor.

LOOKS GOOD FROM YEAR TO YEAR

Smart nickel-plating means that there is no need to keep polishing; this bell remains a bright shiny silver. The bell also includes a ribbon for hanging, so you can go hang it on your tree or set it on the mantel right away.
Item Number: 279037
Brand: Klikel
UPC: 811183032159
In Stock
Buy It On Amazon